The Benefits of Glass Walls: An Overview of PurOptima
June 28, 2023
One of the recent trends in office design is using glass walls to create an open and transparent working environment. The benefits of using glass walls are vast, making them a popular choice for many today. In this blog, we will provide you with an overview of the benefits of glass walls for workspaces and how our partner PurOptima can help.
Enhance Natural Light
Glass walls allow natural light to stream into the office space, making it brighter and more welcoming. This creates a more pleasant working environment for employees, boosting their mood, energy, and productivity. PurOptima provides customizable glass wall solutions that optimize natural light while mitigating glare and solar heat gain.
Promote Openness and Transparency
Glass walls help create an open and transparent working environment, promoting collaboration and communication among employees and departments. It eliminates the hierarchical design of traditional enclosed offices, fostering a sense of equality and openness among the workforce. PurOptima's frameless glass walls provide unobstructed views, facilitating interaction and collaboration between employees.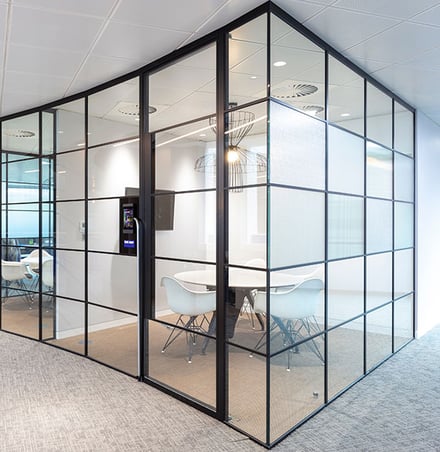 Increases Sound Isolation
Glass walls help minimize noise pollution and provide a quieter workspace. PurOptima glass wall systems integrate acoustic treatments that reduce sound transmission and ensure a peaceful workspace conducive to focused work and productivity.
In conclusion, glass walls are an innovative and flexible solution to modern office design. PurOptima products offer many benefits that enhance office productivity, employee satisfaction, and improved business performance.
Our PurOptima Partnership
We are excited to announce that we will now be representing PurOptima, a global leader in the design and manufacturing of sustainable interior glass wall systems. Their range of award-winning glass wall partition and doors offer beautifully designed, high-performance solutions manufactured with the lowest carbon footprint aluminum on the market. ®